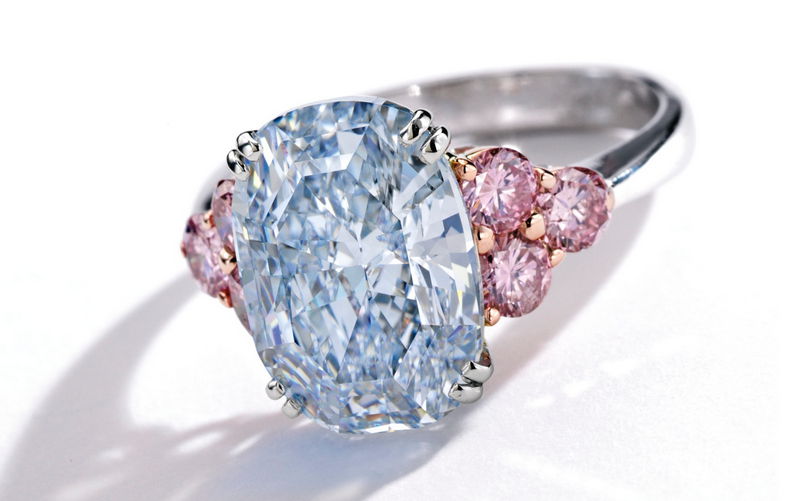 The Monarch Blue Diamond Ring (Image: Sotheby's)
Here are the key items to watch for in the colored diamonds niche:
6.06 carat Fancy Blue Diamond Ring

The Monarch Blue Diamond (Image: Sotheby's)

The Monarch Blue Diamond is a rare and magnificent 6.06 carat pure fancy blue diamond with outstanding vvs2 clarity, cut as a modified oval and mounted onto a platinum ring. The diamond is GIA certified and the certificate is dated October 2014 – a new blue diamond. In the unusual ring's design the blue diamond is flanked by 3 round pink diamonds in each side set in rose gold weighing another 0.85 carat total. The price estimation – $3,500,000 – $4,500,000. Meaning roughly $577k – $742k per carat.

6.24 carat Fancy Purplish Pink Diamond Ring

6.24ct Fancy Purplish Pink Diamond Ring (Image: Sotheby's)

Purplish pink diamonds are amongst the most sought after colored diamonds colors, and this specific gem is of the highest quality. Graded as Fancy purplish pink weighing over 6 carats with vvs2 clarity. The GIA has also determined it to be a Type IIa diamond. While the 6 carat blue diamond above was flanked in pink, this ring is the exact opposite – the pink diamond is flanked with two cushion cut blue sapphires weighing 4.8 carats. This amazing ring is estimated at $2,500,000 – $3,500,000

11.41 carat Internally Flawless Fancy Light Pink Diamond Ring

Flawless Fancy Light Pink Diamond Ring 11.41ct (Image Sothebys)

While the title says it all, a picture is worth a thousand words… Amazing pink diamond ring of an outstanding size.
This diamond is truly an anomaly – 11.41 carat pink diamond which is internally flawless… no wonder it is estimated at $2 Million Dollars…

6.32 carat Fancy Brown Pink Diamond Ring
This is a pink diamond with a secondary brown hue. It weighs above 6 carats and has very good vs2 clarity. While the above 6 carat pink is estimated at $2.5 Million, this one due to the brown hue is estimated $250,000. A huge difference due to the touch of brown! Another interesting point is that at the previous auction an 8.88 carat pink brown (brown with pink tone, not pink with brown tone) got a MUCH higher estimation…
6.83 carat Fancy Pink Brown Diamond Ring
Cushion cut vs2 pink brown diamond estimated at $100k-$150k. The opposite of the brown pink above with half the price estimation.
0.84 carat Fancy Grayish Blue Diamond Ring
This diamond is interesting because it is something that somehow can be told that is more common, a diamond one would find in stores and websites. Beautiful colored diamond graded as grayish blue with good vs2 clarity and its estimation is $70k-$90k – around $100,000 per carat.